Children of the World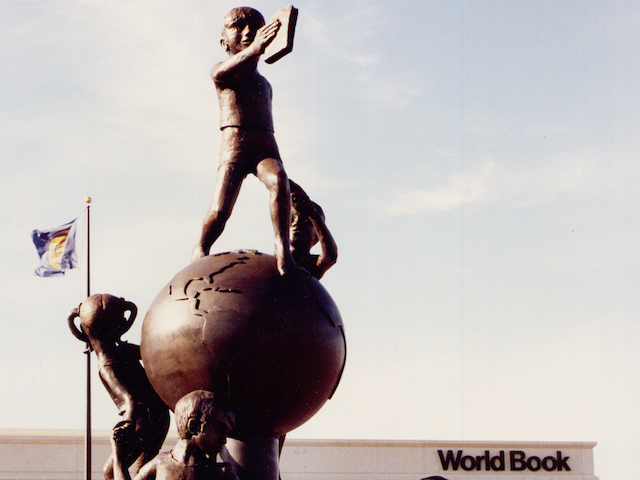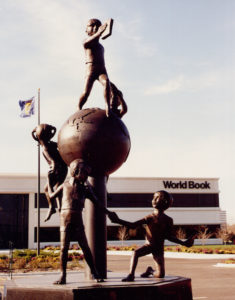 Lauren Grey's relationship with World Book Educational Products, publishers of World Book Encyclopedia, began with the creation of numerous custom-made gifts for employees and the sales force. She applied her design of children of different ethnicities to hand painted silk scarves, custom made silver pins and pendants, sets of brass blazer buttons, specially woven men's neckties, 50,000 pewter key tags and more.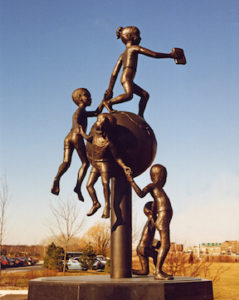 The company then commissioned the monumental sculpture CHILDREN OF THE WORLD. The theme of this work of art is the joy children derive from learning. Five girls and boys, all of different nationalities, hold books from World Book's encyclopedia set and link hands as they ascend from the ground up to the top of a globe, which represents World Book's logo.
President Frank Gagliardi commissioned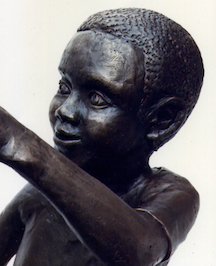 the sculpture from Grey to show appreciation for World Bookers everywhere. That is the name for the company's sales force, comprised of men and women from all walks of life dedicated to furthering the cause of literacy.
As plans were being drawn for their new North American headquarters to be built in Elk Grove Village, Illinois, Gagliardi hired sculptor Lauren Grey to create the exciting sculpture. "To ensure that that part of the budget is protected, let's build the sculpture right now," he told her. After completion, the sculpture was stored in the company's warehouse until construction was finished.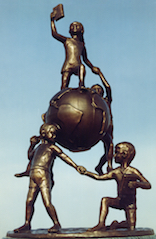 World Book had originally planned to install the sculpture in a lobby built to display CHILDREN OF THE WORLD. But the President was so delighted with the finished sculpture that he asked the sculptor to install it in front of the building's entrance along a major highway "so all the world can enjoy the piece".
When World Book closed their headquarters in Elk Grove Village, the Chairman Ralph Schey donated the monumental sculpture. We de-installed it in Illinois and re-installed it at the entrance to The Cleveland Clinic Children's Hospital, where they also have one of the smaller bronzes in the lobby,
"Lauren, you've captured the essence of World Book perfectly with CHILDREN OF THE WORLD… the joy of learning, the reason we are World Bookers, and the story of the company. Thank you.   Frank Gagliardi, President"